DZ Deathrays & Support - McHughs Basement
Thursday 24th May 2012 20:00
Without a doubt, Australian two-piece, DZ Deathrays are one of the most hotly talked about bands of the past year. After signing to Melbourne based record label I OH YOU in early 2011, they've been releasing and touring relentlessly, introducing themselves to the world as one of the most brutal new bands on the scene. They make their way to the intimate surroundings of McHughs Basement on Thursday 24th May, tickets on sale now priced £9!
Tweet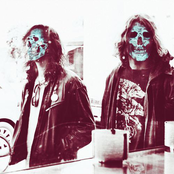 DZ Deathrays are a two piece dance punk band from Brisbane, Australia. Started playing house parties, will most likely end at one. Formerly DZ.
Their debut EP, Ruined My Life was released in 2009. They finally released their debut album, Bloodstreams, on May 7, 2012.
Read more on Last.fm
. User-contributed text is available under the Creative Commons By-SA License; additional terms may apply.
Top Tracks:
Top Albums: