SHINE St Patricks Day: 2manydjs, The 2 Bears & many more! - Shine
Saturday 17th March 2012 21:30
SHINE at QUB SU returns for it's first installment of 2012, with a heavyweight St Patricks Day lineup featuring 2MANYDJs, The 2 Bears, Space Dimension Controller and loads more!
2ManyDJs continue to go from strength to strength. The genre-bending Belgian duo have built up a massive catalogue of remixes and original productions (via their Soulwax moniker). Their 2011 highlights include a host of festival headline performances, a two night stand in London's Brixton Academy, and a mind-blowing new audio/visual show.
The 2 Bears, made up of Hot Chip head-honcho Joe Goddard and Raff Rundell, make their long awaited Shine debut on St Patricks Day. Their critically acclaimed debut LP "Be Strong" was released on January 30th, and stormed the UK Top 40.
Derry clubbing institution La Musique take over room 2, with special guests SPACE DIMENSION CONTROLLER & Figure of 8, as well as La Musique resident DJ Dollface!
Tickets for St Patricks Day Shine, 17th March 2012, go onsale Thursday February 9th at 9am from The Stiff Kitten, www.shine.net , QUB Students Union and Ticketmaster Outlets Nationwide!
Tweet
Soulwax, headed by David and Stephen Dewaele, is an alternative rock band hailing from Ghent, Belgium. Even though the Dewaele Brothers have released several major albums under this moniker, including Leave The Story Untold (1996), Much Against Everyone's Advice (1999) and Any Minute Now (2004), the two are perhaps best known for their influential contributions to the bastard pop genre under the names Flying Dewaele Brothers and 2 Many DJ's and the landmark record As Heard On Radio Soulwax, Pt. 2.
2 Many Dj's are usually the headliner of Radio Soulwax.
Discography
Official Compilations
* As Heard On Radio Soulwax, Pt. 2 (2002)
Unofficial Compilations
* As Heard On Radio Soulwax Pt. 1 and Pt.3 through Pt.12
* Hang All DJs (Volumes I-V)
* Get Yer Yo Yo's Out Pt. 1 through 5
FULL SITE UP NOW
http://www.2manydjs.com/
(mobile app also available for download)
Read more on Last.fm
. User-contributed text is available under the Creative Commons By-SA License; additional terms may apply.
Top Tracks:
Top Albums: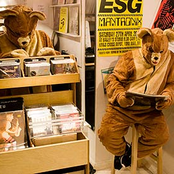 The 2 Bears are a British musical duo formed in 2009 composed of Joe Goddard (of electronic band Hot Chip) and Raf Rundell (previously of 1965 Records). The duo produces original material amalgamating various styles including 2-step, house, hip-hop and soul and also host a radio show on Ministry of Sound Radio entitled "Follow the Bears". Critics offer various descriptions of The 2 Bears' sound including "pop-hip-house", "liquid-bmore-house-step" and "rave-garage". The 2 Bears have received UK national radio support from DJs including Fearne Cotton, Scott Mills, Nick Grimshaw, Greg James, Annie Mac, Huw Stephens, Kissy Sell Out, Dev, Rob Da Bank and John Kennedy. The duo have produced remixes for several established artists including Santigold, Metronomy, Toddla T and The View.
Raf Rundell, a former press officer, and Joe Goddard, one fith of electronic music band Hot Chip, met while working together at the Greco-Roman soundsystem parties. Joe has told how the band originated from the suggestion of a friend who proposed that he, Raf and Joe Mount (from the band Metronomy) form a band called 'The 3 Bears'. The band ultimately formed as a two piece without Joe Mount. During their formative studio sessions Raf & Joe created the tracks 'Mercy Time' and 'Be Strong', which went on to appear on their first EP 'Follow The Bears', released by Southern Fried Records in early 2010. 'Follow The Bears' was supported by a subsequent remix EP featuring contributions from Derrick Carter & Supabeatz. The Bears went on to release a further two EPs on Southern Fried Records, 'Curious Nature EP' in the latter part of 2010 and 'Bearhug EP' in early 2011. Both were accompanied by further remix EPs with contributors including Maxxi Soundsystem and Midland. The 2 Bears first complete album Be Strong was released on January 29, 2012, and was preceded by the single 'Work' on January 2. The single was included on the XFM playlist. They also made a mix album, 2 Bears 1 Love which featured Wiley, Toddla T, and remixes from the 2 Bears. They also announced a second LP titled 'The Night is Young' was to be released in September 2014 on Southern Fried Records.
Read more on Last.fm
. User-contributed text is available under the Creative Commons By-SA License; additional terms may apply.
Top Tracks:
Top Albums: